About B&B Electric Motor Co.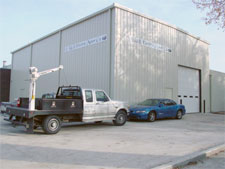 When you do business with B & B Electric Motor, you're getting the experience that comes with an established business.
Since 1959, Robert Giesen, the President / Owner of B & B Electric Motor Company, has been working with the electric motor repair industry. His background as an educator has afforded him the ability to train employees and to be a provider of technical information for our customers. Robert has given numerous in-plant seminars on various topics dealing with repair and replacement of electric motors and applications. Having been a member of EASA since 1972, Robert has served as President of the Heart of America Chapter of EASA, and was elected EASA International Director of Region 4 in 2003.
Our shop foreman has been with B & B since 1973 and has many years of experience in all forms of electric motor repair. The commitment to excellence in electric motor repair is lead by our expert foreman.
Our rewind department has an equally experienced leader. He is one of the best in our industry. We also employ a full-time machinist. Since 1997 he has been invaluable in offering "one stop" machine repair. The sales staff at B & B Electric Motor Co. also show a strong dedication to commitment having over 20 years combined experience.
Clearly, our background and strong key staff show our commitment to quality and customer service.
In 2004 B & B Electric motor expanded to over 13,000 square feet of shop, warehouse, and office area. Our new addition of 3,100 square feet is utilized for larger motor repair. With it's own driveway, it accommodates a 53 foot trailer and our new 10 ton bridge crane allows us to lift just about any motor that can be transported. This area has 4 work stations especially constructed for the rebuilding of large electric motors.
The area has also been equipped with a new Phenix Power Panel. We are now able to closely simulate the conditions under which a motor operates in your facility. The variable voltage allows us to test from 0 volts to 4160 volts of AC power and 0 volts to 600 volts of DC power. The power panel also generates precise computerized readings for vibration levels, voltage, and current.
As the electrical industry demands, B & B electric will continue to grow in experience and education to meet and exceed our customer expectations. You can count on us for all your electric motor needs.